2 Bed Paphos Villa - Coral Bay (153)
REF 153
This is a highly sought after 2 bed villa with fantastic views of the sea, it is situated at the...
Sleeps 4 (2 Bed)
Coral Bay
Swimming pool
1 Bath/shower rooms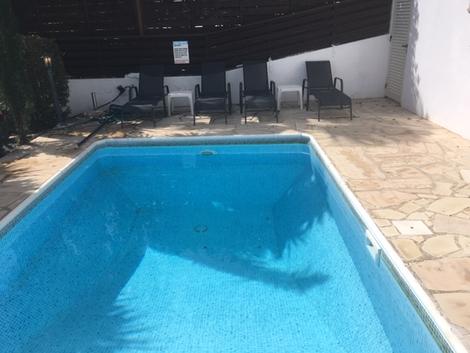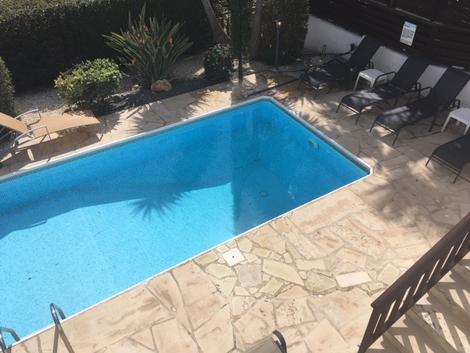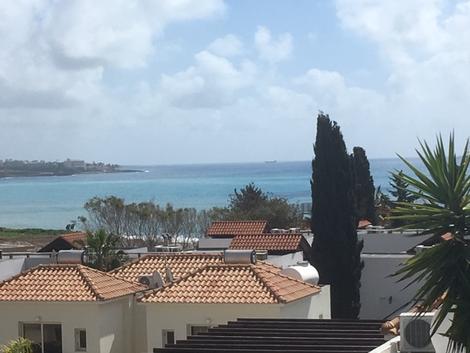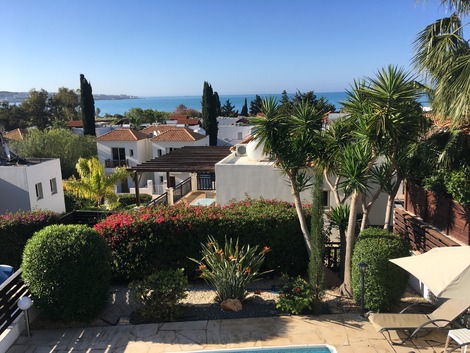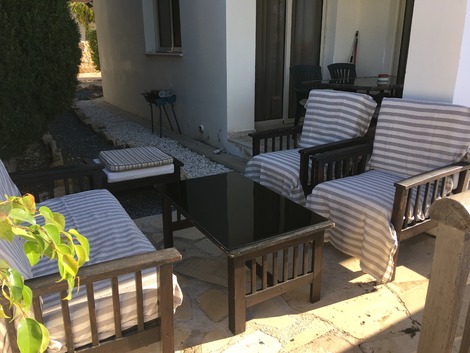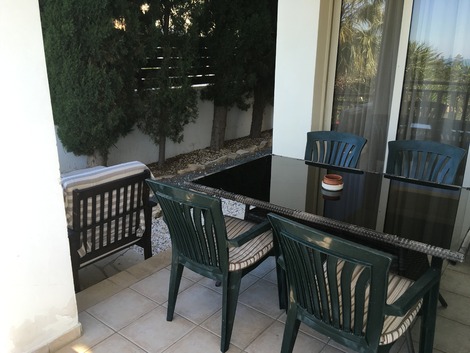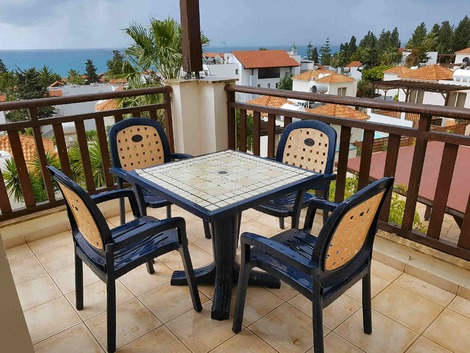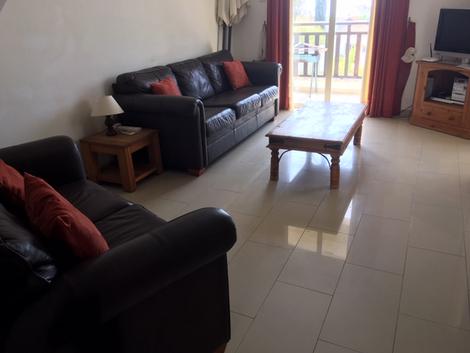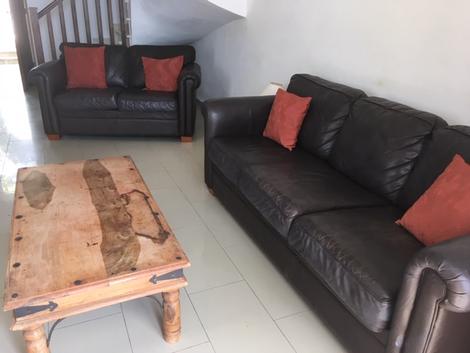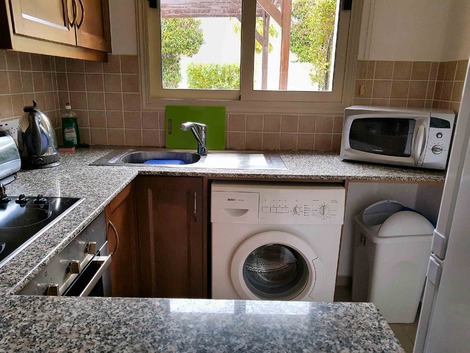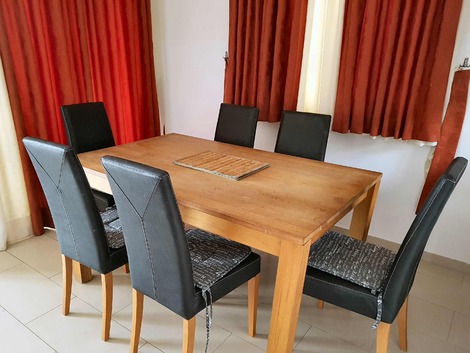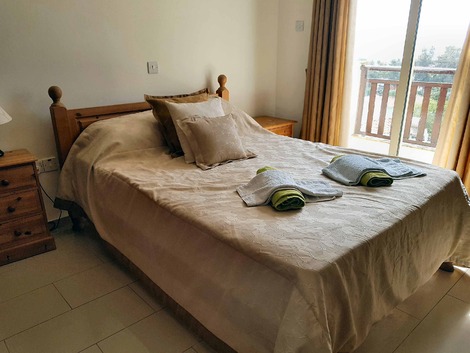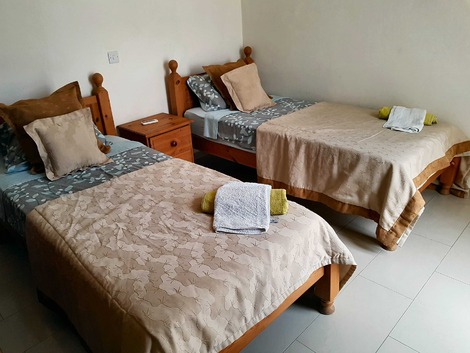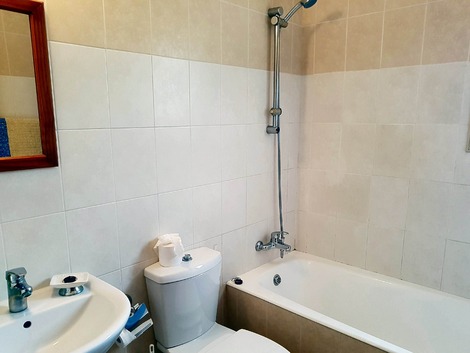 View Full Calendar
About this property
This is a highly sought after 2 bed villa with fantastic views of the sea, it is situated at the very end of a quiet cul de sac but still only a few minutes walk from the thriving Coral Bay strip. This villa is ideal for a romantic holiday for two or as a family holiday for 4. There is a private parking space covered by a wooden pergola by the front door which then leads into the living area which has two cream sofas, WIFI and a smart android box offering uk channels and 7 day play back plus up to date films, and also a dining area, both of which have patio doors which lead onto a large patio area which looks down on to the pool. There is also a well equipped kitchen and toilet on this level.
Upstairs there is a double bedroom and a twin bedroom, both have their own balcony areas, with the master bedroom having both mountain and amazing sea views with stunning sunsets. There is also a shared bathroom on this level. There are mature gardens around this well appointed villa and it offers a perfect relaxing holiday venue. This property also has a free welcome pack included.
Coral Bay has arguably the nicest beach and clearest waters in the whole of Cyprus making it the prime Coral Bay villas destination. The beach is shaped like a horse shoe and is a paradise of soft white sand sheltered by headlands with calm turquoise glassy waters. The summer heat is often tempered by a gentle breeze and the sea has a shallow margin where children may play safely.
There are many water based activities close by to these Coral Bay villas, during busier months various water sports are on offer including pedalos, water skiing, banana boats, jet skis and windsurfing etc. Kato Paphos harbour offers various boat trips including a Spanish Galleon, Catamaran, Glass Bottom boats, Speed Boats, Jet Boats and a large 'Booze Cruise' liner. There are multiple Jet Ski hire companies so you can hire these in most places on the sea front.
If you venture out on foot you will find close by various banks, minimarkets, bars, restaurants, and bustling cafes as well as many other shops and tavernas. If you are looking for nightlife close to your Coral Bay villas there are many bars and restaurants within walking distance, with all ages catered for. Kato Paphos is a ten to fifteen minute drive away with its bustling pubs, bars, restaurants and clubs and really has something for everyone!
One of the major attractions of these Coral Bay villas is Paphos' diving treasures including Maninji Island, Akamas Peninsula and the fourth largest wreck dive in the world - The Wreck of Zenobia; for experienced divers only. There are various dive companies in the town that offer courses for beginners so you can always learn to dive in Coral Bay.
If diving is not for you, why not venture out to try turtle watching, go-karting, jeep safari, trekking, cycling, golfing or go on an archaeological dig. If you are looking for a perfect golf destination close to your Coral Bay villas then look no further, there are three courses within a 35 minute drive; Aphrodite Hills, Tsada Golf Club and Secret Valley Golf Club, all are championship courses and are perfect for a golfing holiday.
Coral Bay is a fantastic location if you are looking for a villa rental holiday, one of the best locations in the whole of Cyprus.
| Period | Price per week |
| --- | --- |
| 01 Jun 21 to 21 Jul 21 | £650 now £488 |
| 22 Jul 21 to 31 Jul 21 | £650 now £520 |
| 01 Aug 21 to 18 Aug 21 | £750 now £600 |
| 19 Aug 21 to 31 Aug 21 | £750 |
| 01 Sep 21 to 30 Sep 21 | £650 |
| 01 Oct 21 to 31 Oct 21 | £600 |
| 01 Nov 21 to 30 Nov 21 | £450 |
| 01 Dec 21 to 31 Dec 21 | £350 |
| 01 Jan 22 to 01 Mar 22 | £350 |
| 01 Mar 22 to 30 Apr 22 | £450 |
| 01 May 22 to 31 May 22 | £600 |
| 01 Jun 22 to 31 Jul 22 | £650 |
| 01 Aug 22 to 31 Aug 22 | £750 |
| 01 Sep 22 to 30 Sep 22 | £650 |
| 01 Oct 22 to 31 Oct 22 | £600 |
| 01 Nov 22 to 30 Nov 22 | £450 |
| 01 Dec 22 to 31 Dec 22 | £350 |
| 01 Jan 23 to 01 Mar 23 | £350 |
| 01 Mar 23 to 30 Apr 23 | £450 |
| 01 May 23 to 31 May 23 | £600 |
| 01 Jun 23 to 31 Jul 23 | £650 |
| 01 Aug 23 to 31 Aug 23 | £750 |
| 01 Sep 23 to 30 Sep 23 | £650 |
| 01 Oct 23 to 31 Oct 23 | £600 |
| 01 Nov 23 to 30 Nov 23 | £450 |
| 01 Dec 23 to 31 Dec 23 | £350 |
Check Availability
Air Con - in all bedrooms as a minimum
Grill
Patio
Fridge/Freezer
Oven
Wireless Internet
DVD Player
Other Satellite/Cable TV
Washing Machine
BBQ
Iron and Ironing Board
TV
Balcony
Hob
Toaster
Android TV Box (UK Channels)
Hair Dryer
Safe
Distance
Coral Bay

Pubs

Shops

Bus Stop

Restaurants

Beach

Sea Front

Tombs of the Kings

Kato Paphos

Old Town

Harbour

Minthis Hills Golf Resort

Hospital

Airport

Secret Valley Golf Club

Aphrodite Hills Golf Resort
"The villa and location were perfect. The welcome food and drink was a treat as our journey took us 15 hrs in total.
Nice and spacious with everything you needed.
The views were spectacular and I could sit there all day looking at it. Great location close to walk into the main high street.
So peaceful and calming.
I would highly recommend this villa and have done so to family and friends."
Ref 153
28th October 2018

Sally
2 Bed Paphos Villa - Coral Bay (153)
"We had a really wonderful holiday and the villa was great. We were situated in a good position. We had beautiful sea views from our lounge and bedroom and there was plenty of storage space in the kitchen and the bedrooms. The villa was big enough for the three of us. The grounds were lovely with lots of different plants. The welcome pack was very good and was very welcome after our long trip! The air con was great and so needed!"
Ref 153
17th September 2018

Susan
2 Bed Paphos Villa - Coral Bay (153)
Thank you so much. Honestly, you have been the easiest and most helpful rental company I have ever used.
16th November 2017

Georgia
2 Bed Paphos Villa - Coral Bay (153)
All testimonials for this villa