2 Bed Apartment - Vanessa Resort
REF 177
Vanessa Apartments is a quiet 5-star year-round resort with Peyia's largest Pool. The apartment...
Swimming pool
1 Bath/shower rooms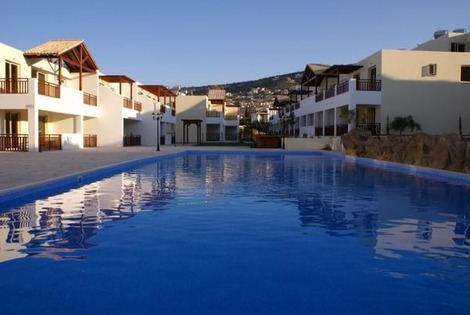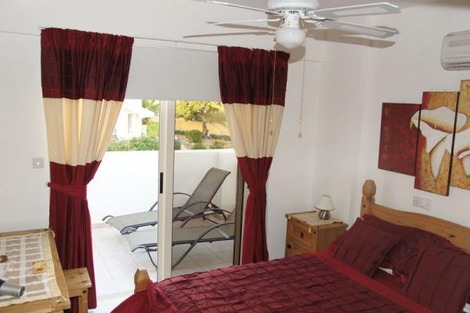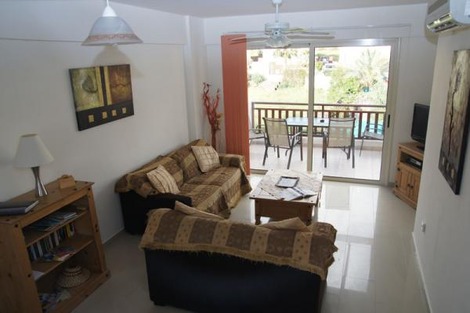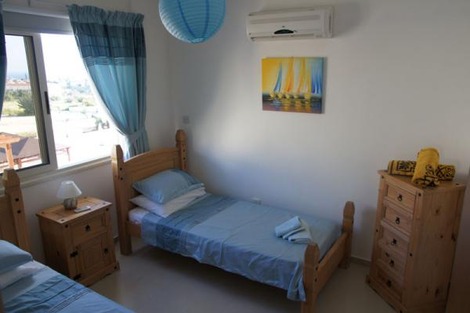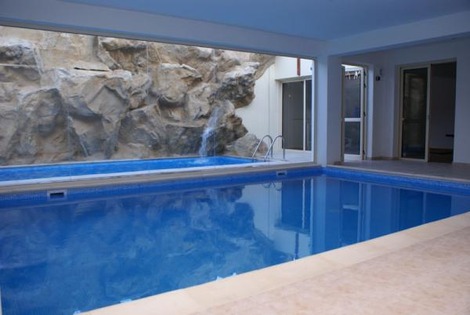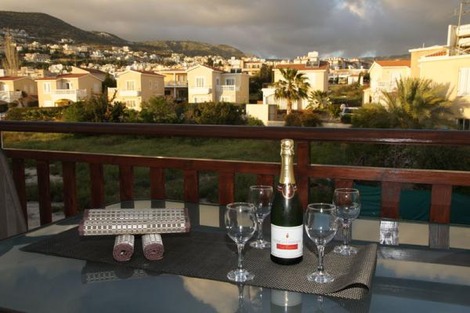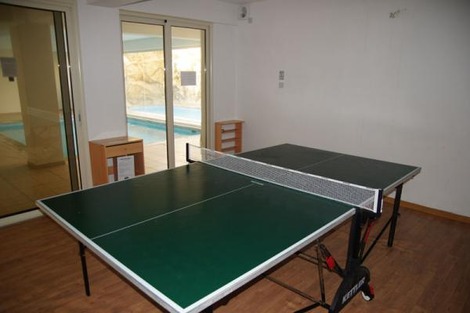 View Full Calendar
About this property
Vanessa Apartments is a quiet 5-star year-round resort with Peyia's largest Pool. The apartment is on the top floor with views to mountains/sea/pool. Tastefully furnished & well equipped with Ceiling fans and Air Conditioning, W/s satellite TV & Hifi, & Wi-Fi. (The apartment now has reception for UK terrestrial TV channels). The apartment has Elite mattresses & large terraces, & is only 5 minutes drive from Coral Bay, the best beach locally.
The complex is close to the centre of delightful Peyia village. Within a walk are choices of bakers, butchers, supermarkets, restaurants and bars. Communal facilities include large pool, further plunge pool, heated indoor pool, indoor Jacuzzi bath, changing rooms, sauna, Table-tennis & gym plus gardens, on-site parking, & lifts. There is a Bus service to Paphos and Airport. The apartments are just 20 minutes from Paphos Centre, with its culture, history, port and abundance of shops (with a new shopping centre opened in 2014), bars and restaurants.
Peyia is a town in Cyprus with approximately 10,000 residents. Peyia is situated mainly on the steep slopes of the coastal hills inland from Coral Bay, at the southern end of the Akamas Peninsula, and it lies 14 km north of Paphos. It has a large population of British ex-pats and a growing number of holiday homes and apartments. In the town centre there is a town hall, church, police station and several small shops, restaurants and banks. Due to its hillside location many parts of the town offer views over Coral Bay and Paphos.
Peyia actually covers a large area stretching from the Peyia Forest on the hills high above the village in the north, to the sea in the south, and from the Bay of Maa in the east to the Akamas Peninsula in the west. However the name is used more frequently in respect to the town.
Coral Bay has arguably the nicest beach and clearest waters in the whole of Cyprus making it the prime Coral Bay villas destination. The beach is shaped like a horse shoe and is a paradise of soft white sand sheltered by headlands with calm turquoise glassy waters. The summer heat is often tempered by a gentle breeze and the sea has a shallow margin where children may play safely.
There are many water based activities close by to these Coral Bay villas, during busier months various water sports are on offer including pedalos, water skiing, banana boats, jet skis and windsurfing etc. Kato Paphos harbour offers various boat trips including a Spanish Galleon, Catamaran, Glass Bottom boats, Speed Boats, Jet Boats and a large 'Booze Cruise' liner. There are multiple Jet Ski hire companies so you can hire these in most places on the sea front.
If you venture out on foot you will find close by various banks, minimarkets, bars, restaurants, and bustling cafes as well as many other shops and tavernas. If you are looking for nightlife close to your Coral Bay villas there are many bars and restaurants within walking distance, with all ages catered for. Kato Paphos is a ten to fifteen minute drive away with its bustling pubs, bars, restaurants and clubs and really has something for everyone!
One of the major attractions of these Coral Bay villas is Paphos' diving treasures including Maninji Island, Akamas Peninsula and the fourth largest wreck dive in the world - The Wreck of Zenobia; for experienced divers only. There are various dive companies in the town that offer courses for beginners so you can always learn to dive in Coral Bay.
If diving is not for you, why not venture out to try turtle watching, go-karting, jeep safari, trekking, cycling, golfing or go on an archaeological dig. If you are looking for a perfect golf destination close to your Coral Bay villas then look no further, there are three courses within a 35 minute drive; Aphrodite Hills, Tsada Golf Club and Secret Valley Golf Club, all are championship courses and are perfect for a golfing holiday.
| Period | Price per week |
| --- | --- |
| 01 Jan 19 to 31 Mar 19 | £210 |
| 01 Apr 19 to 30 Apr 19 | £300 |
| 01 May 19 to 31 May 19 | £290 |
| 01 Jun 19 to 30 Jun 19 | £330 |
| 01 Jul 19 to 31 Jul 19 | £340 |
| 01 Aug 19 to 31 Aug 19 | £370 |
| 01 Sep 19 to 30 Sep 19 | £350 |
| 01 Oct 19 to 31 Oct 19 | £310 |
| 01 Nov 19 to 31 Dec 19 | £265 |
| 01 Jan 20 to 17 Feb 20 | £210 |
| 18 Feb 20 to 31 Mar 20 | £210 now £200 |
| 01 Apr 20 to 30 Apr 20 | £300 now £285 |
| 01 May 20 to 31 May 20 | £290 now £276 |
| 01 Jun 20 to 30 Jun 20 | £330 now £314 |
| 01 Jul 20 to 31 Jul 20 | £340 now £323 |
| 01 Aug 20 to 31 Aug 20 | £370 now £352 |
| 01 Sep 20 to 30 Sep 20 | £350 now £333 |
| 01 Oct 20 to 31 Oct 20 | £310 now £295 |
| 01 Nov 20 to 31 Dec 20 | £265 now £252 |
| 01 Jan 21 to 31 Mar 21 | £210 now £200 |
| 01 Apr 21 to 30 Apr 21 | £300 now £285 |
| 01 May 21 to 31 May 21 | £290 now £276 |
| 01 Jun 21 to 30 Jun 21 | £330 now £314 |
| 01 Jul 21 to 31 Jul 21 | £340 now £323 |
| 01 Aug 21 to 31 Aug 21 | £370 now £352 |
| 01 Sep 21 to 30 Sep 21 | £350 now £333 |
| 01 Oct 21 to 31 Oct 21 | £310 now £295 |
| 01 Nov 21 to 31 Dec 21 | £265 now £252 |
Check Availability
Toaster
Grill
Oven
Fridge/Freezer
Other Satellite/Cable TV
DVD Player
Lift
Wireless Internet
Balcony
Iron and Ironing Board
Washing Machine
Air Con - in all bedrooms as a minimum
Hob
TV
Hair Dryer
Distance
Restaurants

Shops

Bus Stop

Pubs

Beach

Coral Bay

Sea Front

Tombs of the Kings

Kato Paphos

Old Town

Harbour

Hospital

Minthis Hills Golf Resort

Airport

Secret Valley Golf Club

Aphrodite Hills Golf Resort