2 Bed Apartment - Paradise Gardens (201)
REF 201
This beautiful South facing two bedroom, two bathroom apartment has a double balcony, part...
Swimming pool
2 Bath/shower rooms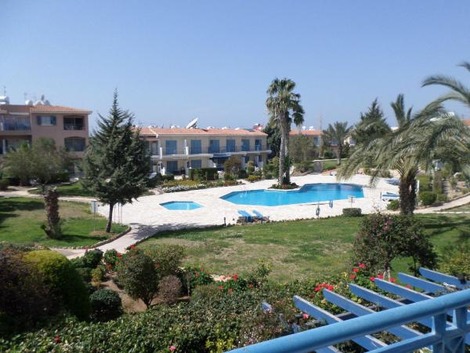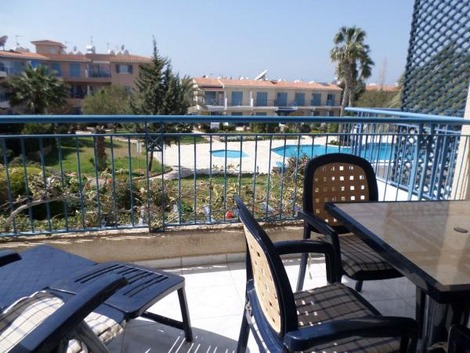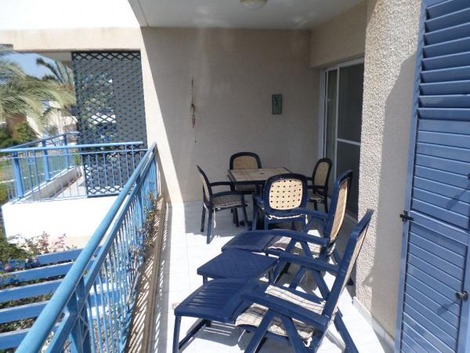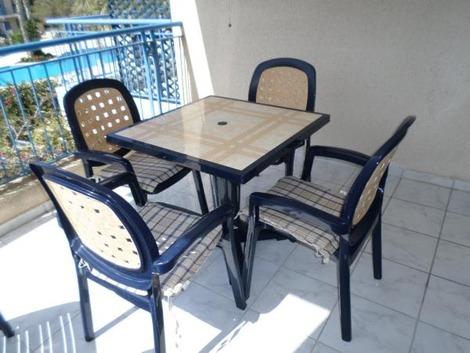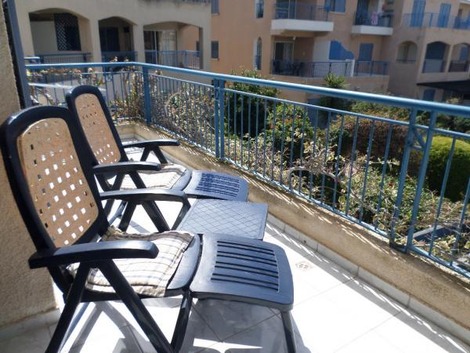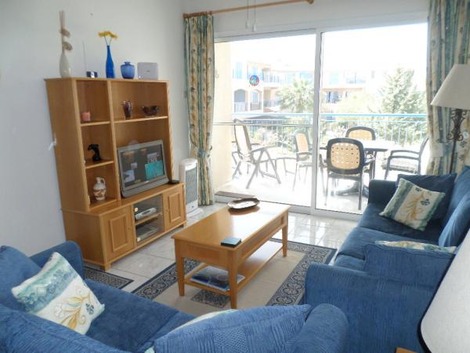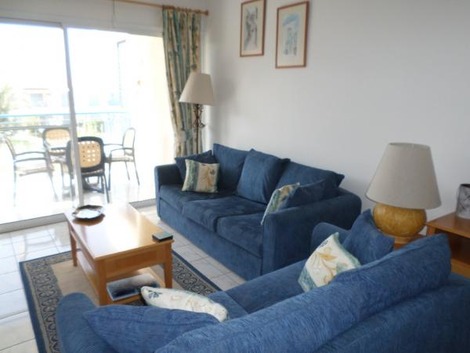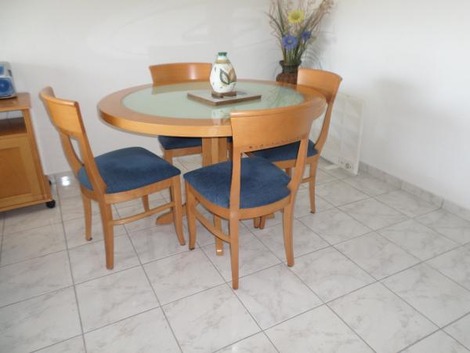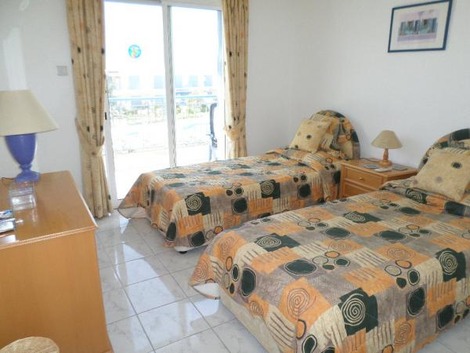 View Full Calendar
About this property
This beautiful South facing two bedroom, two bathroom apartment has a double balcony, part covered and part open in the sunshine to suit all guests. Both areas of the patio are joined so access can be made from either side, it also has great views of the pool and garden.
The well furnished lounge area offers a flat screen TV connected to an Apple TV system and leads through to double patio doors on the covered area of the balcony. The master bedroom has an en-suite bathroom and there is a second bathroom with walk in shower to service the twin room. There is also a twin bedroom with patio doors to the open area of the balcony.
The kitchen is modern and well equipped and the apartment has air conditioning units and ceiling fans in all rooms including the kitchen. There are also fly screens on all of the windows and doors ensuring guests are comfortable while enjoying a warm breeze.
Le Papillon Beaute
Massage Salon of the year Cyprus
Specialising in massage and beauty tratments in the comfort of our luxury salon. The massage centre was voted massage centre of the year 2019 in Cyprus by Luxury Travel Guide.
For treatment listing and more information, please visit www.lepapillonbeaute.com
Free transport to and from the apartment and a 10& discount for packages booked by guests.
Paradise Gardens Resort is one of the most successful developments in Cyprus, having been awarded the Best Cypriot Development award in 2004 by the Bentley International Property Awards. Paradise Gardens Resort offers some of the best Paphos apartments to rent, it has beautiful lush landscaped gardens and magnificent swimming pools, including a feature overflow pool and a children's pool, all of which have plenty of sun beds for sunbathing on the secluded sun terraces, and poolside showers and toilets for your convenience.
Paradise Gardens Resort is also one of the best Paphos apartments to rent as it is located within just a few minutes walking distance to the sandy beaches, shops, harbour and the tourist heart of Kato Paphos which has many bars, pubs, restaurants and night life for all ages. During busier months, various water sports are on offer including pedalos, water skiing, banana boats, jet skis and windsurfing. The harbour offers various boat trips including a Spanish Galleon, Catamaran, Glass Bottom boats, Speed Boats, Jet Boats and a large 'Booze Cruise' liner. There are multiple Jet Ski hire companies so you can hire these in most places on the sea front.
If you are feeling adventurous you can take a trip to the Troodos Mountains and enjoy the breathtaking scenery, or if you are visiting during the winter months skiing and snowboarding are even available. Paradise Gardens Resort are ideal Paphos apartments to rent if you like the water, you can rest assured that every kind of water sports are close at hand. One of the major attractions of Paphos is its diving treasures including Maninji Island, Akamas Peninsula and the fourth largest wreck dive in the world - The Wreck of Zenobia; for experienced divers only. There are various dive companies in the town that offer courses for beginners so you can always learn to dive in Paphos.
If diving is not for you, why not venture out to try turtle watching, go-karting, jeep safari, trekking, cycling, golfing or go on an archaeological dig. If you are looking for a perfect golf destination then look no further, there are three courses within a 25 minute drive; Aphrodite Hills, Tsada Golf Club and Secret Valley Golf Club, all are championship courses and are perfect for a golfing holiday.
Paradise Gardens are the perfect Paphos apartments to rent no matter what your age as everything you could want in a holiday is just a stones throw away. Transfers are approximately 15 minutes from Paphos Airport.
| Period | Price per week |
| --- | --- |
| 01 Sep 21 to 30 Sep 21 | £396 now £278 |
| 01 Oct 21 to 31 Oct 21 | £396 now £278 |
| 01 Nov 21 to 23 Nov 21 | £264 now £185 |
| 24 Nov 21 to 31 Dec 21 | £264 |
| 01 Jan 22 to 28 Feb 22 | £264 |
| 01 Mar 22 to 31 May 22 | £396 |
| 01 Jun 22 to 30 Jun 22 | £396 |
| 01 Jul 22 to 31 Aug 22 | £462 |
| 01 Sep 22 to 30 Sep 22 | £396 |
| 01 Oct 22 to 31 Oct 22 | £396 |
| 01 Nov 22 to 31 Dec 22 | £264 |
| 01 Jan 23 to 28 Feb 23 | £264 |
| 01 Mar 23 to 31 May 23 | £396 |
| 01 Jun 23 to 30 Jun 23 | £396 |
| 01 Jul 23 to 31 Aug 23 | £462 |
| 01 Sep 23 to 30 Sep 23 | £396 |
| 01 Oct 23 to 31 Oct 23 | £396 |
| 01 Nov 23 to 31 Dec 23 | £264 |
Check Availability
Air Con - in all bedrooms as a minimum
Hob
TV
Hi-Fi
Toaster
Hair Dryer
Safe
Grill
Other Satellite/Cable TV
Fridge
Microwave
Wireless Internet
Balcony
Iron and Ironing Board
Washing Machine
Distance
Kato Paphos

Pubs

Shops

Restaurants

Bus Stop

Harbour

Sea Front

Beach

Hospital

Tombs of the Kings

Old Town

Airport

Coral Bay

Minthis Hills Golf Resort

Secret Valley Golf Club

Aphrodite Hills Golf Resort
"Just want to say thank you we really enjoyed our stay at the above apartment and look forward to staying again. I would highly recommend this lovely apartment very clean and tidy also basic essentials were also there on arrival. Enjoyed my stay."
Ref 201
29th May 2019

Cheryl
2 Bed Apartment - Paradise Gardens (201)
"Thank you for organising fantastic accommodation yet again for my holiday in Paphos.
Paradise Gardens was an unfamiliar area for me, but I found it centrally located and within walking distance to all the places I needed to get to.
Ray's apartment has been by far the most comfortable and 'homely' of all the places I have stayed. Very well equipped and any issues dealt with quickly.
The pool area was a great place to relax and there was no trouble finding sun loungers during September.
For those unfamiliar to the area, we discovered a short cut to the harbour during our last week! Cross the dual carriageway opposite Taxiarchon. You'll find a ramp and set of steps. Follow this quiet residential road, cross the road and keep straight, past the cemetery on the left.
Turn left and then right. You'll see no entry signs for traffic.
Follow the Street with its bars etc until you reach the Aklion Taverna on the right and cross the road to walk along Dionysou(?). If you follow this Street, you'll come out at Pinguino and the harbour area. If we'd discovered the short cut earlier, we'd have gone to the harbour more often.
The Mall is 15 minutes walk away and has a hypermarket on the ground floor. Jumbo is another place to visit- plenty of very inexpensive things to supplement whatever an apartment might lack in the way of kitchen equipment.
Bus tickets available from the harbour make local travel a very cheap option. €20 for a week or €40 for a month.
I've already booked this apartment for next year, so I have something to look forward to.
Thanks to Ray, his step son George, Mary upstairs who popped in to see if we were okay and Paphos Holiday Rentals for their first class service and organisation."
Ref 201
4th October 2018

Julie
2 Bed Apartment - Paradise Gardens (201)
"We had a really great time. The apartment was great. It was well equipped (except the cafetière was broken). There was loads of information and advice. It was comfortable and well presented. Everything worked and we loved it. We would definitely book again. Ray and Dannie (or was it you) left us welcome groceries which was a godsend as we didn't arrive until after 3 in the morning. I have absolutely no complaints and would not hesitate to recommend it to someone else. Thanks very much."
July 2018
20th July 2018

Elizabeth
2 Bed Apartment - Paradise Gardens (201)
All testimonials for this villa