1 Bed Penthouse - Paradise Gardens (259)
REF 259
A genuine penthouse on the beautiful Paradise Gardens resort in the centre on Kato Paphos with great views of the pool and manicured gardens
Swimming pool
1 Bath/shower rooms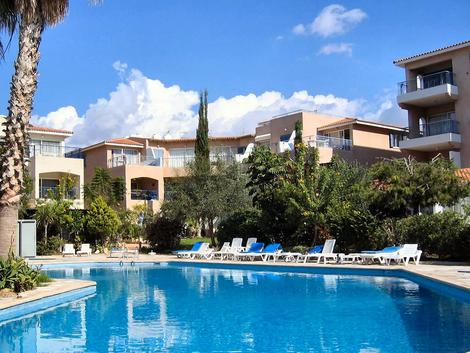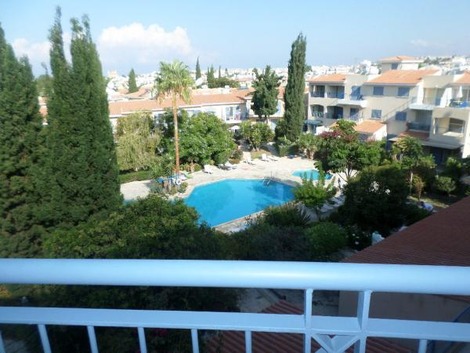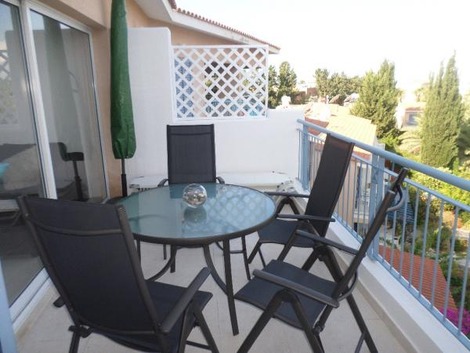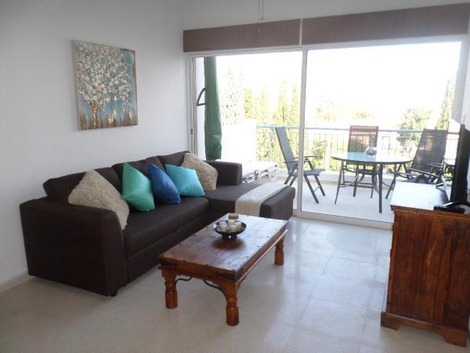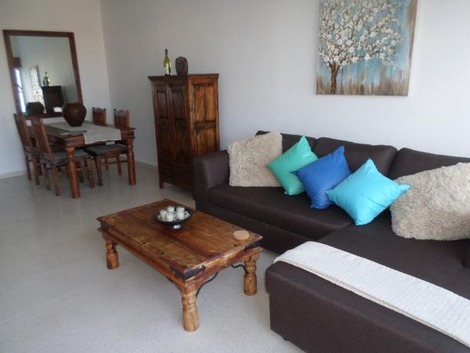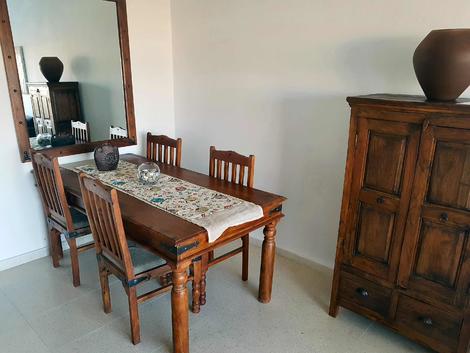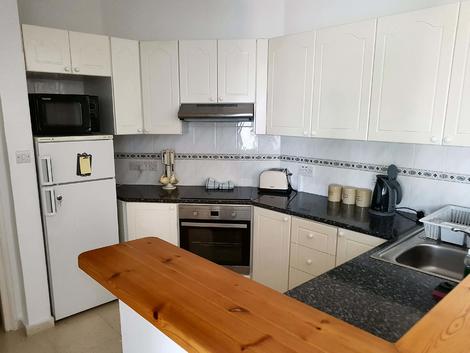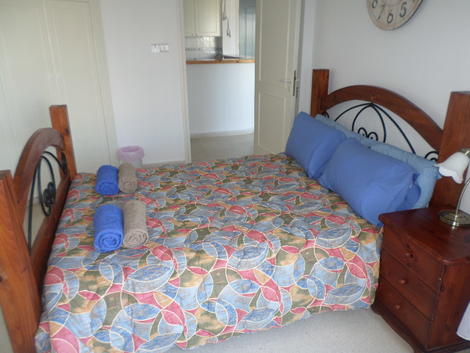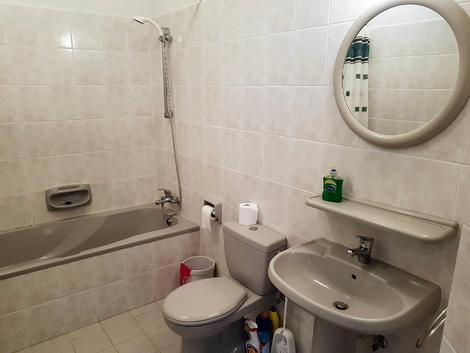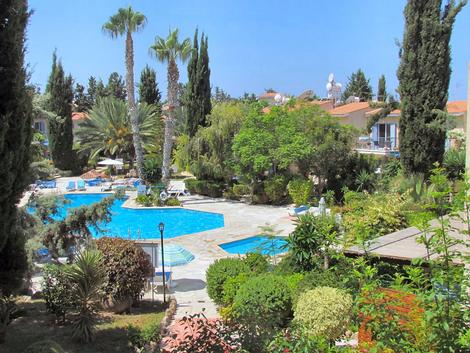 View Full Calendar
About this property
A genuine penthouse on a beautiful resort in the centre on Kato Paphos with great views of the large swimming pool and manicured gardens. The penthouse is serviced by a lift to the 3rd floor where you will find a spacious property, well-furnished with a well equipped kitchen.
Both the lounge and the large bedroom have patio doors onto the lovely balcony that offers sun beds and alfresco dining. The lounge has a flat screen TV and smart droid box which gives you terrestrial TV, 7 day play back and a bank of up to date films.the bedroom has a king size bed with memory foam mattress which offers you a great nights sleep. This is a very nicely positioned penthouse in a great location offering both a central location and privacy to the more discerning traveller!
Paradise Gardens Resort is one of the most successful developments in Cyprus, having been awarded the Best Cypriot Development award in 2004 by the Bentley International Property Awards. Paradise Gardens Resort offers some of the best Paphos apartments to rent, it has beautiful lush landscaped gardens and magnificent swimming pools, including a feature overflow pool and a children's pool, all of which have plenty of sun beds for sunbathing on the secluded sun terraces, and poolside showers and toilets for your convenience.
Paradise Gardens Resort is also one of the best Paphos apartments to rent as it is located within just a few minutes walking distance to the sandy beaches, shops, harbour and the tourist heart of Kato Paphos which has many bars, pubs, restaurants and night life for all ages. During busier months, various water sports are on offer including pedalos, water skiing, banana boats, jet skis and windsurfing. The harbour offers various boat trips including a Spanish Galleon, Catamaran, Glass Bottom boats, Speed Boats, Jet Boats and a large 'Booze Cruise' liner. There are multiple Jet Ski hire companies so you can hire these in most places on the sea front.
If you are feeling adventurous you can take a trip to the Troodos Mountains and enjoy the breathtaking scenery, or if you are visiting during the winter months skiing and snowboarding are even available. Paradise Gardens Resort are ideal Paphos apartments to rent if you like the water, you can rest assured that every kind of water sports are close at hand. One of the major attractions of Paphos is its diving treasures including Maninji Island, Akamas Peninsula and the fourth largest wreck dive in the world - The Wreck of Zenobia; for experienced divers only. There are various dive companies in the town that offer courses for beginners so you can always learn to dive in Paphos.
If diving is not for you, why not venture out to try turtle watching, go-karting, jeep safari, trekking, cycling, golfing or go on an archaeological dig. If you are looking for a perfect golf destination then look no further, there are three courses within a 25 minute drive; Aphrodite Hills, Tsada Golf Club and Secret Valley Golf Club, all are championship courses and are perfect for a golfing holiday.
Paradise Gardens are the perfect Paphos apartments to rent no matter what your age as everything you could want in a holiday is just a stones throw away. Transfers are approximately 15 minutes from Paphos Airport.
| Period | Price per week |
| --- | --- |
| 01 Jul 22 to 14 Sep 22 | £295 now £266 |
| 15 Sep 22 to 30 Sep 22 | £295 |
| 01 Oct 22 to 31 Oct 22 | £250 |
| 01 Nov 22 to 31 Dec 22 | £175 |
| 01 Jan 23 to 28 Feb 23 | £168 |
| 01 Mar 23 to 31 Mar 23 | £194 |
| 01 Apr 23 to 30 Apr 23 | £231 |
| 01 May 23 to 31 May 23 | £263 |
| 01 Jun 23 to 30 Jun 23 | £284 |
| 01 Jul 23 to 30 Sep 23 | £309 |
| 01 Oct 23 to 31 Oct 23 | £263 |
| 01 Nov 23 to 31 Dec 23 | £183 |
| 01 Jan 24 to 28 Feb 24 | £176 |
| 01 Mar 24 to 31 Mar 24 | £203 |
| 01 Apr 24 to 30 Apr 24 | £242 |
| 01 May 24 to 31 May 24 | £276 |
| 01 Jun 24 to 30 Jun 24 | £298 |
| 01 Jul 24 to 30 Sep 24 | £325 |
| 01 Oct 24 to 31 Oct 24 | £276 |
| 01 Nov 24 to 31 Dec 24 | £193 |
Check Availability
Iron and Ironing Board
Washing Machine
Air Con - in all bedrooms as a minimum
Hob
TV
Hair Dryer
Oven
Grill
Other Satellite/Cable TV
Fridge/Freezer
Microwave
Balcony
Lift
Wireless Internet
Android TV Box (UK Channels)
Distance
Kato Paphos

Beach

Bus Stop

Harbour

Pubs

Restaurants

Sea Front

Shops

Hospital

Tombs of the Kings

Old Town

Airport

Coral Bay

Minthis Hills Golf Resort

Aphrodite Hills Golf Resort

Secret Valley Golf Club
"We had an amazing Holydays in your apartment. We are very grateful for comfort and cleanliness! We'll come back here again!"
Ref 259
13th May 2019

Lilia and Darya
1 Bed Penthouse - Paradise Gardens (259)
"We had a fantastic holiday in this nice, well equipped and well laid out apartment. Everything worked well apart from an issue with the cord switches for the fan and light in the bedroom. I attempted to untangle the cord, but decided to leave it in case I made it worse. Only issue for us was the bed was very low, and difficult for my wife to get out of with arthiritic knees.
Having said that, the whole apartment was adequate for all our needs, was nice to have some UK TV channels, and we found that because the room was on the 3rd floor, it was very airy with the doors open , so the need for use of aircon was less. The aircon units worked very well when required.
The swimming pool was excellent, with shallow and deep areas. Plenty of general sunbeds available without using your ones provided. There are plenty of mature trees providing some shelter which was good because of the lack of umbrellas.
We have previously stayed at Paradise Gardens IV. The apartments there are newer, but it did give us an idea of what to expect. The local shop and Pambis Restaurant were reasonably priced, and very friendly."
27th August 2018

Gerry
1 Bed Penthouse - Paradise Gardens (259)
"We had a wonderful holiday, the apartment complex, and the flat was lovely"
June 2018
12th June 2018

Dorina
1 Bed Penthouse - Paradise Gardens (259)
All testimonials for this villa