2 Bed Apartment - Georgos Complex (279)
REF 279
A lovely spacious, centrally located fully equipped two bedroom, two bathroom apartment with large shared pool
Swimming pool
2 Bath/shower rooms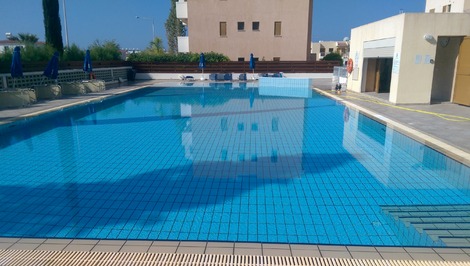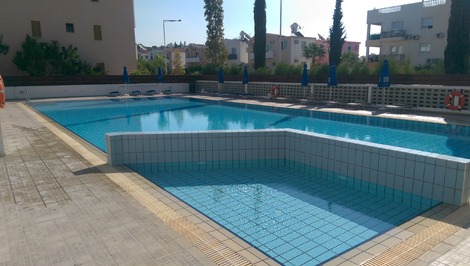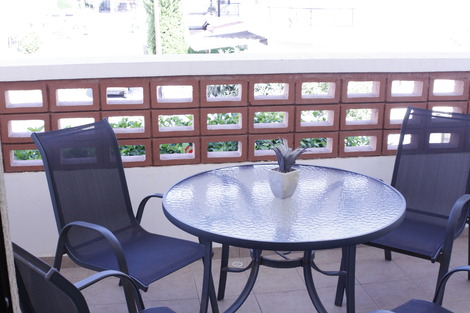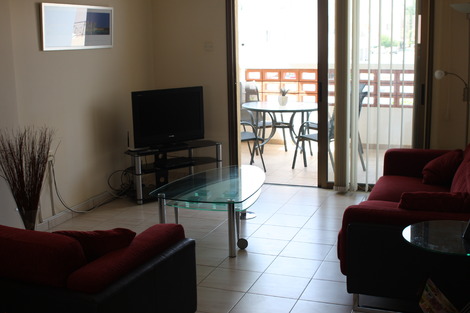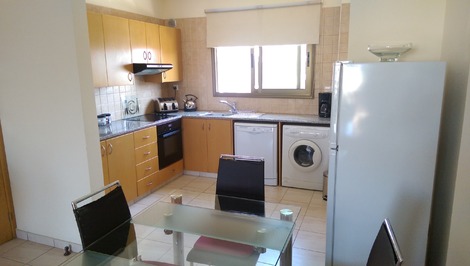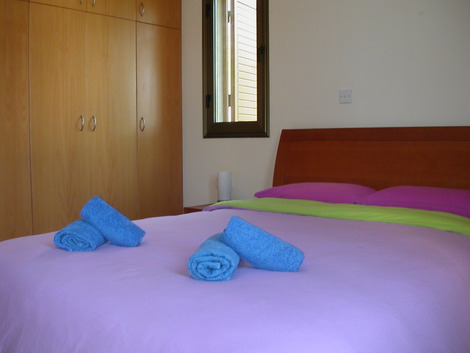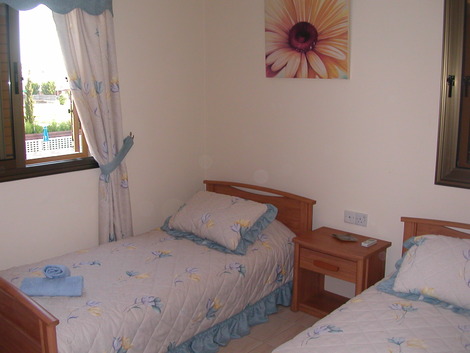 View Full Calendar
About this property
A lovely spacious, centrally located fully equipped two bedroom, two bathroom apartment with large shared pool - only fifteen minutes walk from the harbour area with its numerous restaurants, bars shops and beaches.
The first floor apartment has a fully fitted kitchen, open plan living area with Smart TV and Wi fi and a west facing balcony. There is ample private parking and a lift to the building.
Less than a couple of minutes walk from the property is the Elysia Plaza which comprises: the Arabica (a popular bar/cafe/restaurant}, a convenience store, a pharmacy and a nail studio. There is also an excellent fitness centre with well equipped gym and indoor pool."
Georgos complex is only a fifteen minute drive from Paphos airport.
The area of Paphos (Kato Paphos) is steeped in historical interest. In ancient times, Paphos was the capital of Cyprus and is reputedly the birthplace of Aphrodite, Goddess of Love.
Many of Paphos' attractions are within walking distance. Alternatively, there is an excellent, cheap local bus service and taxis are readily available (details of both in the apartment).
Combine the ancient and modern, and visit the state of the art air conditioned Kings Avenue Shopping Mall with abundant shops, restaurants, softplay area and cinema – situated almost adjacent to some of the famous historic heritage sites.
Alternatively, you may wish to hire a car and discover a wider area – perhaps the beautiful beaches of Coral Bay, the Troodos Mountains, the unspoilt Akamas, local wineries, historic Nicosia – or even cross the Green Line into the Turkish part of Cyprus.
If you have young children, there are many family friendly restaurants within easy walking distance – some with their own softplay areas. For a quick and easy tasty meal try Pambis – only a five minute walk away and very popular with the locals! And for a gourmet treat, why not try the award winning Seven St George's meze restaurant or a delicious Italian dish at Grazie's.
Alternatively, there are details of takeaways/home deliveries provided for you in the apartment – including Indian, Chinese, Pizza, and KFC : even McDonalds deliver in Paphos!
Or if you prefer to create your own culinary feast, the kitchen is fully equipped with full sized oven, hob, microwave, dishwasher and fridge freezer. Fresh, cheap local produce is readily available from the nearby local shop or Papantoniou's (fifteen minutes walk) offer an even wider range of English and Cypriot groceries.
| Period | Price per week |
| --- | --- |
| 21 Jul 22 to 31 Aug 22 | £378 now £303 |
| 01 Sep 22 to 02 Nov 22 | £329 |
| 03 Nov 22 to 31 Dec 22 | £308 |
| 01 Jan 23 to 07 Jan 23 | £308 |
| 08 Jan 23 to 23 Mar 23 | £252 |
| 24 Mar 23 to 15 Jun 23 | £308 |
| 16 Jun 23 to 20 Jul 23 | £329 |
| 21 Jul 23 to 31 Aug 23 | £378 |
| 01 Sep 23 to 02 Nov 23 | £329 |
| 03 Nov 23 to 31 Dec 23 | £308 |
| 01 Jan 24 to 07 Jan 24 | £308 |
| 08 Jan 24 to 23 Mar 24 | £252 |
| 24 Mar 24 to 15 Jun 24 | £308 |
| 16 Jun 24 to 20 Jul 24 | £329 |
| 21 Jul 24 to 31 Aug 24 | £378 |
| 01 Sep 24 to 02 Nov 24 | £329 |
| 03 Nov 24 to 31 Dec 24 | £308 |
Check Availability
Toaster
DVD Player
Internet Ready
Air Con - in all bedrooms as a minimum
Sunbeds
Dishwasher
Hob
Safe
Coffee Maker
Wireless Internet
Hi-Fi
Oven
CD Player
Wheelchair access
Hair Dryer
Microwave
Balcony
Washing Machine
Grill
Lift
Android TV Box (UK Channels)
TV
Fridge/Freezer
Iron and Ironing Board
Air Con - Lounge
Distance
Bus Stop

Pubs

Restaurants

Shops

Hospital

Kato Paphos

Beach

Old Town

Sea Front

Harbour

Tombs of the Kings

Airport

Coral Bay

Minthis Hills Golf Resort

Secret Valley Golf Club

Aphrodite Hills Golf Resort